Harlequins Big Game
CLIENT:
Harlequin Football Club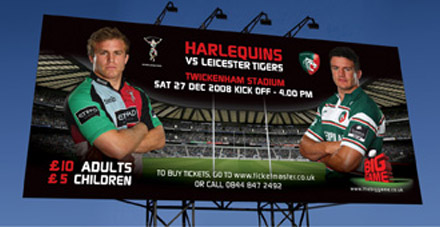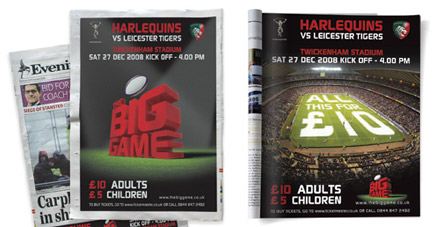 Harlequins, one of Rugby Union's premier clubs, wanted to stage a major rugby match with Leicester Tigers. The match, which would take place at Twickenham Stadium, was an opportunity for Harlequins to enhance their reputation and reap significant commercial benefits. But first they had to sell 50,000 tickets for a game, just two days after Christmas.
Minale Tattersfield won the pitch to design the promotional material for the match. The challenge was to communicate a simple proposition in a very clear and forceful way. The design team responded by developing an epic theme and brand, The Big Game, with an iconic visual identity reminiscent of Hollywood epics. Devoid of partisan team cues, the identity appealed to all rugby lovers, with a view to re-use in future matches.
The campaign succeeded in filling all the 50,000 seats. Harlequins secured widespread exposure in the sporting press, and The Big Game won Best Integrated Sports Marketing Campaign in the Sport Industry Awards 2009.