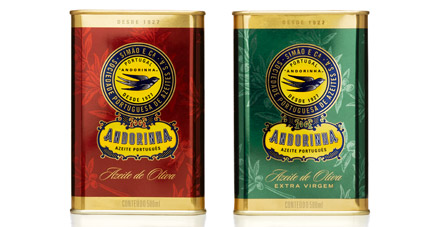 Andorinha is a Portugese olive oil named after the migratory swallow. Set up in 1927 as an export-only brand, Andorinha has found success overseas, with Brazil accounting for 95% of total sales. But with the Brazilian press highlighting the health benefits of olive oil, growing demand caused the market to become flooded with competitors. Consequently Andorinha struggled to keep its small 2.5% volume market share.
In 2006 Pearlfisher were asked to rediscover Andorinha's iconic heritage, while increasing premium cues and impact to grow loyalty and sales. Looking to revitalise the brand, Pearlfisher enlarged and re-crafted the swallow logo and typography to improve shelf stand-out, and introduced a vibrant gold, etched olive branch, blending modernity and sophistication.
In just two years volume sales grew 50%, and value sales 29%, with Andorinha's volume market share rising to 10.6%. And in 2008 Andorinha became the fastest growing olive oil brand in Brazil, delivering an ROI of €75 for every €1 spent on design.