Debbie & Andrew's Sausages
CLIENT:
Debbie & Andrew's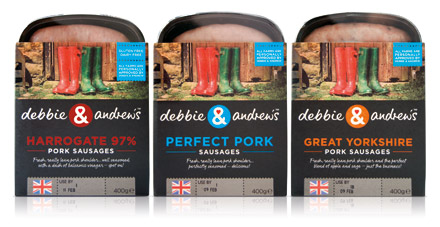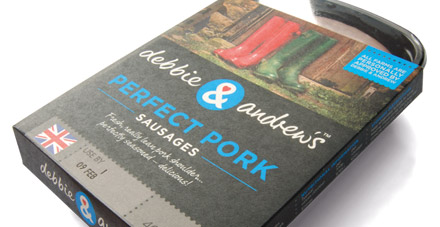 Despite their success as a premium sausage brand, Debbie & Andrew's could not afford to stand still in the increasingly competitive £400m sausage market. With more and more consumers trading up to premium sausages, they wanted to refresh their brand and communicate more clearly 'real food made by real people'.
Elmwood were called in to evolve the existing packaging. Retaining those components which had already worked well, Elmwood changed the pack format from landscape to portrait and used an uncoated, textured sleeve. Photography was reduced and design elements were refined to improve shelf standout, and the back was given over to Debbie and Andrew to speak directly about their ingredients and beliefs.
The new design led to a 100.7% increase in annual sales in 2008, with sales up 349% in Sainsbury's and 234% in Tesco. – repaying the design fee 80 times over inside 12 months. Debbie & Andrew's is now the UK's number one premium chilled sausage brand.