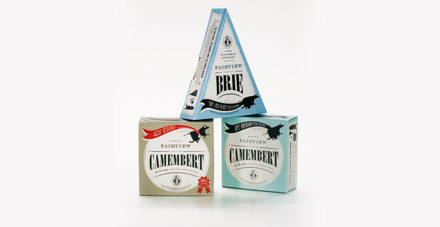 Fairview produces award-winning brie and camembert cheeses for the South African market. Lagging slightly behind Parmalat, whose Simonsberg cheese is the number one brand in South Africa, Fairview was under pressure to reduce their prices, but feared that this might compromise their brand identity.
Coley Porter Bell (CPB) were brought in to redesign Fairview's brie and camembert packaging. Their brief was to increase brand value in a price-sensitive market, while simultaneously reducing packaging costs. Using a naive illustrative style, natural colour-ways and humorous copy, CPB created an irreverent yet educational design intended to widen the appeal of these white mould cheeses.
In the five months after re-launch, without any price reduction, value sales rose by 17.8% and 23.8%, exceeding the growth target of 15%. The new design also resulted in an 8% inflationary saving on packaging – equivalent to a saving of £3k a year.