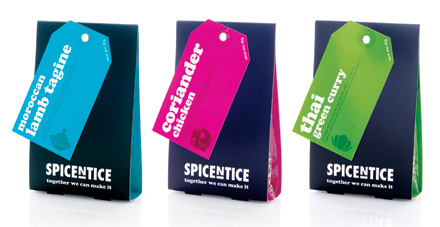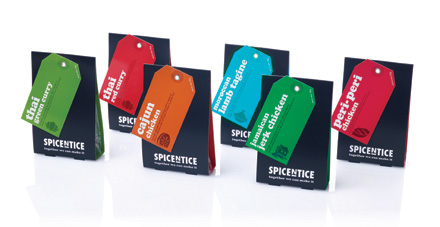 Spicentice produce a range of 100% pure herb and spice packs, complete with recipes and shopping lists designed to give customers everything they need to make a meal. Looking to communicate this unique offer more clearly, Spicentice briefed Honey Creative to refresh their brand identity, enhance their packaging and improve their marketing communications.
Honey created a range of design solutions that reflected an upgrade in product and packaging quality, bolstering the 'premium ingredient' proposition. They introduced black to contrast with strong colour tags, foiled the logotype to provide a mark of excellence, and integrated key information components, making the packs more user-friendly. Honey also critiqued and art-directed the new website and e-tail strategy.
Within the first six months, sales increased by 38%, and an increase of 158% is forecast for 2009/10. Customer accounts have gone up by 10.4%, and 107 new retailers are now stocking Spicentice.